Cleveron 302 - Parcel Locker
Automated parcel locker system as the last-mile delivery solution in retail and logistics sectors. Suitable for handling 20–100 parcels per day.
Cleveron 302 has been designed with e-commerce firmly in mind, from parcel delivery and collection to returns. It features modular column design, providing highly usable flexibility and configuration adjustments. With improved ergonomics and patented drawer slots for small parcels and letters, Cleveron 302 parcel locker allows maximized capacity per square meter.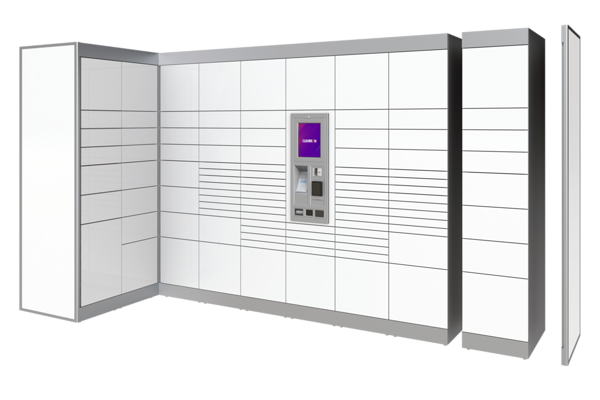 Cleveron 401 - Pickup Tower
Cleveron 301 - Smart Parcel Locker
s_1529525491965
What is it?
Cleveron 302 is a parcel locker solution with modular column design and low maintenance cost.

Technical info
s_1529525514859
Finnish Post – Posti Group's last-mile solution in Finland
Posti Group Corporation (the former Finnish post) is a postal and logistics company operating a parcel locker network in Finland. Posti offers parcel lockers as the last mile solution, as alternative delivery points to traditional post offices. Currently, Posti operates a network of 500 Cleveron 302 parcel terminals in Finland.
Read the case study
s_1529525633758
How does it work?

| | |
| --- | --- |
| 1. The courier logs in and inserts the parcels | |
| 2. The end-user gets notified and receives the pickup code | |
s_1529525806050
Benefits of the Cleveron 302


We provide a full life-cycle solution – hardware, software and support services
Low maintenance costs due to remote technical monitoring and indoor usage

Probably the most dependable locker solution in the world – one of the most critical parts of the parcel locker hardware are locks. We have improved our lock design to last more than 50 000 openings

Patented drawers for small parcels and letters to minimize total cost of ownership

Modular column design for suitable configuration
Up to 55 parcels per m2
The requirements for the users with disabilities are met (2010 ADA Standards for Accessible Design and EU Standard EN 301549)
s_1536740375187
Enjoyable customer experience

The automated and optimized parcel handling and delivery processes save time both for the staff and for the end-user, making the customer experience enjoyable.
Bloomsburg University in the USA uses Cleveron 302 as the campus mailroom solution and is pleased with the results.
s_1529526165651
Support and maintenance
Cleveron is a full-service partner. We offer full life-cycle support for our Cleveron 302 parcel locker solution worldwide.
Implementation
Hardware installation

Software integration

Training

Technical support
Remote monitoring

On-site maintenance

Spare parts

Warranty

System enhancement
Business intelligence data

Research & development
s_1529581556201
Remote monitoring
Our support includes remote technical monitoring service to optimize system's performance and minimize downtime. The main advantage of remote technical monitoring is that it enables to detect and solve 80% of hardware and software related issues from a distance. It means fast problem-solving and low maintenance costs.

On-site maintenance
Our support also includes worldwide on-site maintenance. On-site maintenance is carried out by our certified partner at the client's destination country. Cleveron provides continuous training and certification of service technicians, as well as spare parts management and logistics.
s_1529581892155
Inner dimensions (mm)
Size
H
W
D
Max load (kg)
XS (drawer)
45 x 360 x 530

5
S
120 x 360 x 620
31,5
M
200 x 360 x 620
31,5
L
380 x 360 x 620
31,5
XL
600 x 360 x 620
31,5
Console CC06
s_1529585923731
Cleveron 302's modular column system allows you to choose a suitable drawer/door configuration layout.
The locker sizes and placement can be easily changed in working systems by replacing or adding modules with different configurations.
s_1529586101527
Software
Cleveron 302 is operated by CleverLand software. CleverLand is a cloud-based software, easily integrated with any backend system by Public API protocol.
Contact for software demonstration
s_1529586123748
Cleveron 302 parcel lockers are in more than 800 locations in Europe and in the USA
Finland's Posti Group parcel locker network with Cleveron 302 parcel lockers
View the case study
SmartPOST's last mile delivery solution with Cleveron 302 parcel lockers was named the Most Positive Consumer Experience in Estonia in 2017
View the case study
Start by contacting us

Contact us for additional information about ROI, software, technical support, piloting process or any other topic
For additional information call or send e-mail
{"original_id"=>11710987, "url"=>"//media.voog.com/0000/0044/0414/photos/reioorasmae_block.jpg", "width"=>600, "height"=>600, "top"=>0, "left"=>0, "imageSizes"=>[{"url"=>"//media.voog.com/0000/0044/0414/photos/reioorasmae.jpg", "height"=>1193, "width"=>1193}, {"url"=>"//media.voog.com/0000/0044/0414/photos/reioorasmae_block.jpg", "height"=>600, "width"=>600}], "relative_position"=>false, "fixed_dimension"=>"width"}